Newest OBD2 Scanner Car Diagnostic Scanner KONNWEI KW590 Free Update Car Diagnostic Tool Better than ELM327 Car scanner 
​
NEW KONNWE KW590 OBD2 Scanner Features the unique patented logical navigation buttons , TFT Backlit display screen and built-in speaker. The KONNWE KW590  is truly the ultimate in ease and affordability, enabling users to verify repairs, road test, check State, Emission Monitor Status and solve engine systems and drive ability problems. The car diagnostic functions of KW590 is much more higher and completely superior than other model like AD310 or NT201 with much more affordable price. Besides, KW590 is supporting one-click updates and printing the diagnostic reports from PC.
Top 6 reasons to buy KONNWE KW590
1. KONNWEI KW590 functions MUCH MORE better than AD310/OM123/NT201,and it can support 10 MODE OBDII Diagnostic Function while other scan tool only works for 5-6 functions according to their diagnostic menu.
2.Built-in memory, it can store diagnostic data, freeze frame and trouble codes. Support playback, you can review the stored data when you are at home with powered from PC via USB port.
3.Support life time free upgrade service. Completely compatible with the official version of WINDOWS XP- WIN10.
4.Support printing the diagnostic report via computer.
5. With extra small plush bag,easy storage and keeping your scan tool tidy at garage!
6. The Chip Set used in KW590 is performance much more faster, more stable and reliable. The speed of reading codes or live data is 2 -3 times faster than same level's scan tool !
7.Support multi-language:  English  /French /  Spanish / Dutch /  German / Russian .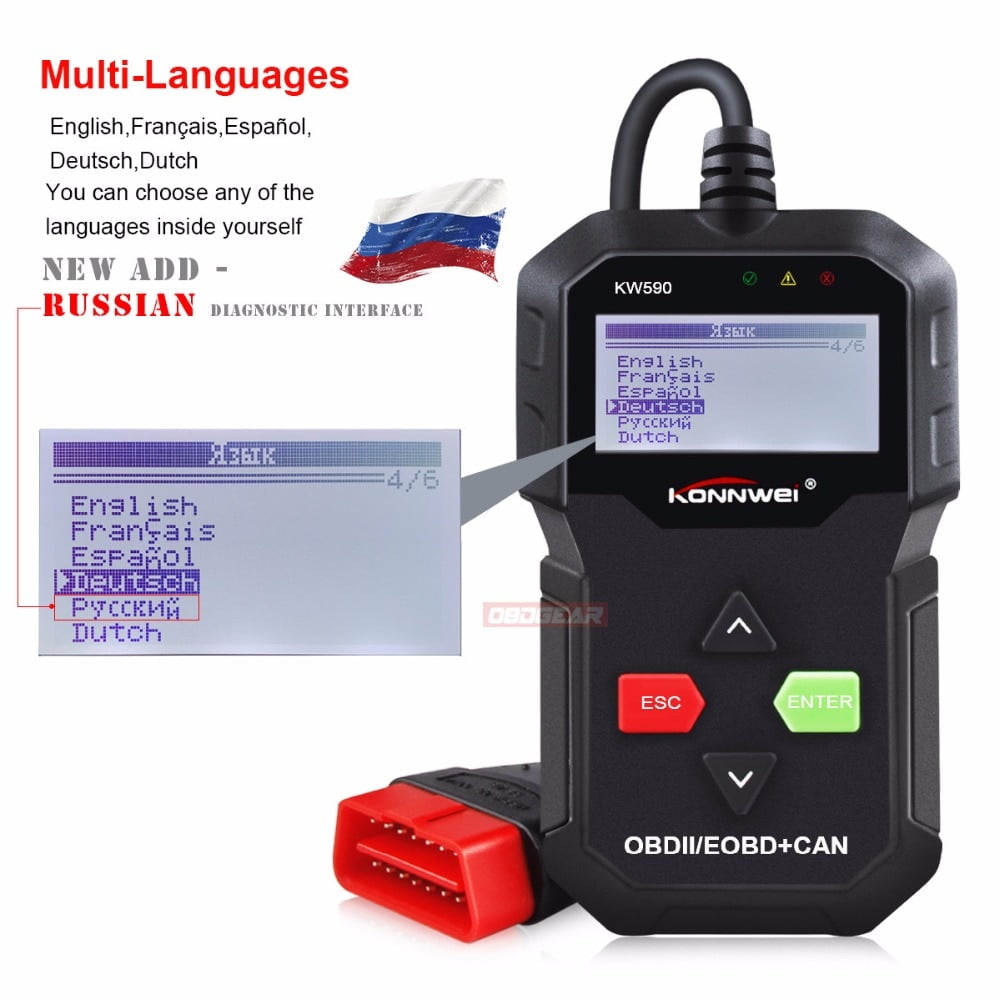 KONNWEI KW590 Functions & Features:  
1. Features the unique designed logical nativation keyboard. (green means GO, and Red means EXIT)
2. Bright color coded LEDs and built in speaker provide both visual and audible indication for readiness verification
3. Retrieves generic (P0, P2, P3, and U0), manufacturer specific (P1, P3, and U1) codes, and pending codes
4. Easily determines the cause of the Malfunction Indicator Light( MIL)
5. Turns off Malfunction Indicator Light (MIL), clears codes and resets monitors
6. Displays DTC definitions on the TFT screen without checking online.
7. Views freeze frame data stored in car computer board.
8. Displays monitor and I/M readiness status (emissions related).
9. Reads live PCM datastream and display in both text mode and graph mode.
10. Retrieves vehicle information(VIN, CIN and CVN)
11. Multilingual menu and DTC definitions, fully support Russian.
12. Extremely easy to use and highly reliable.
13. Life time free update service by one-click, the scan tool will automatically update itself without worring.
14. Support printing the diagnostic report via PC.
15. Support 10 modes of diagnsotics, including O2 sensor test, EVAP Test and component Test.
16. Free gift of nylon bag, for your easy storage and keep the scan tool tidy.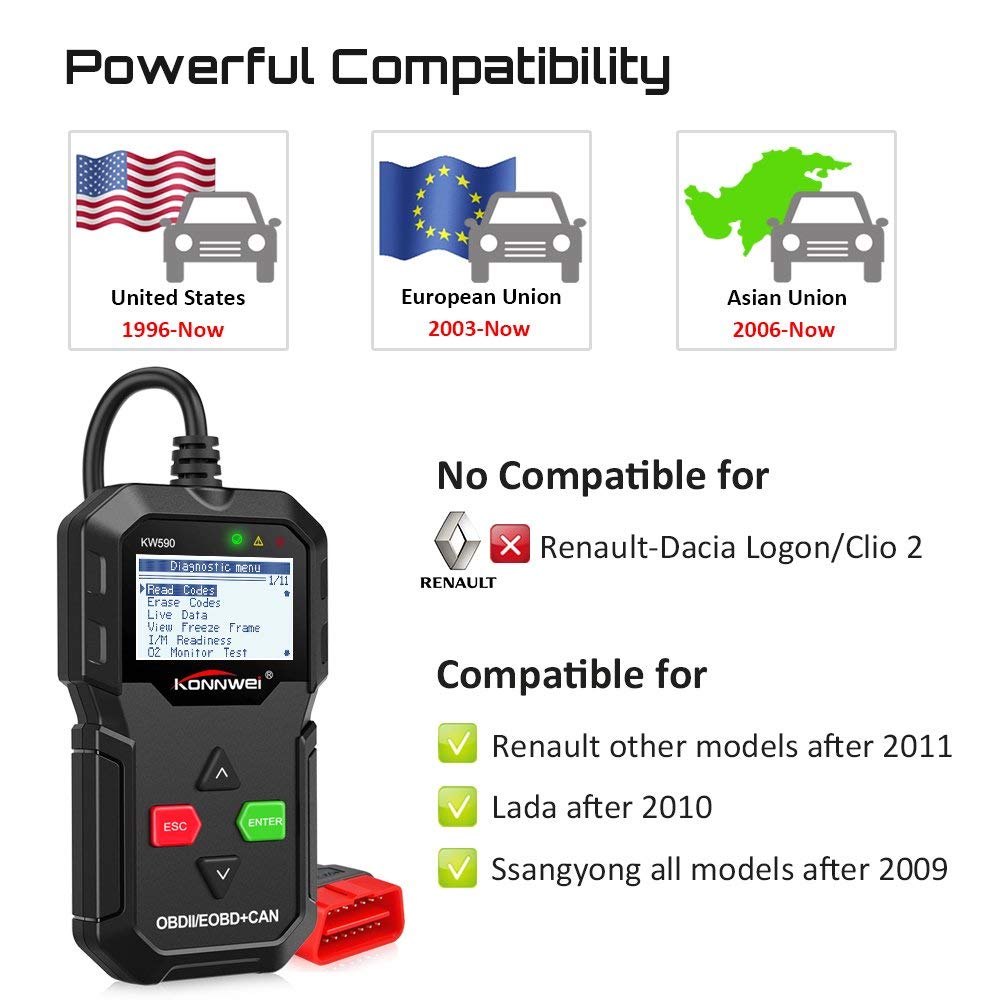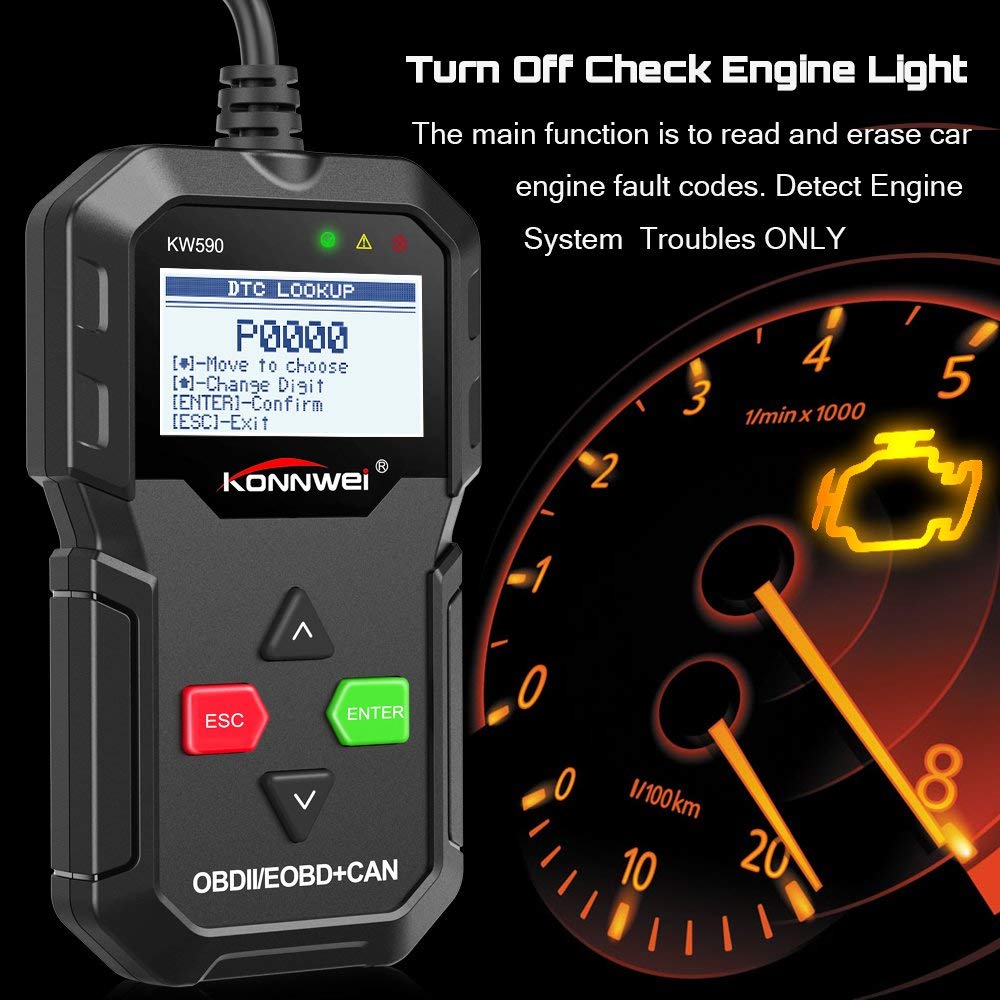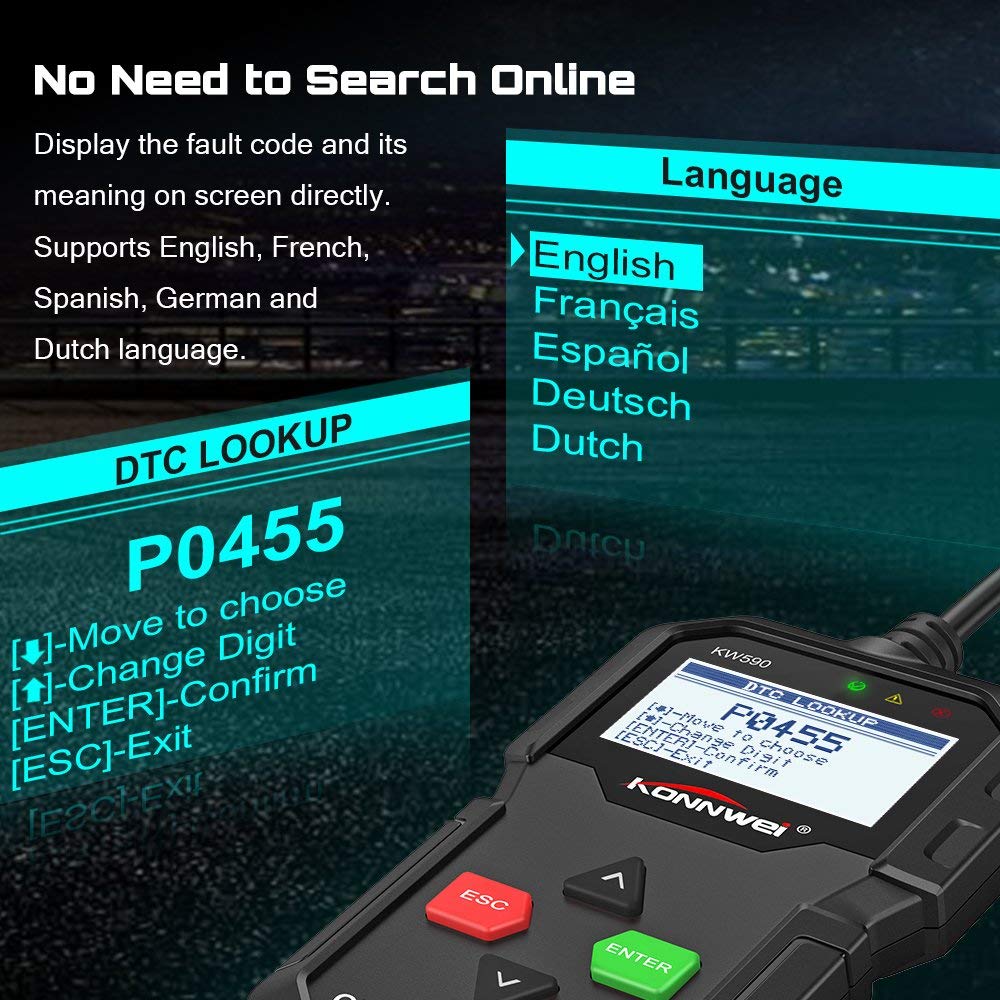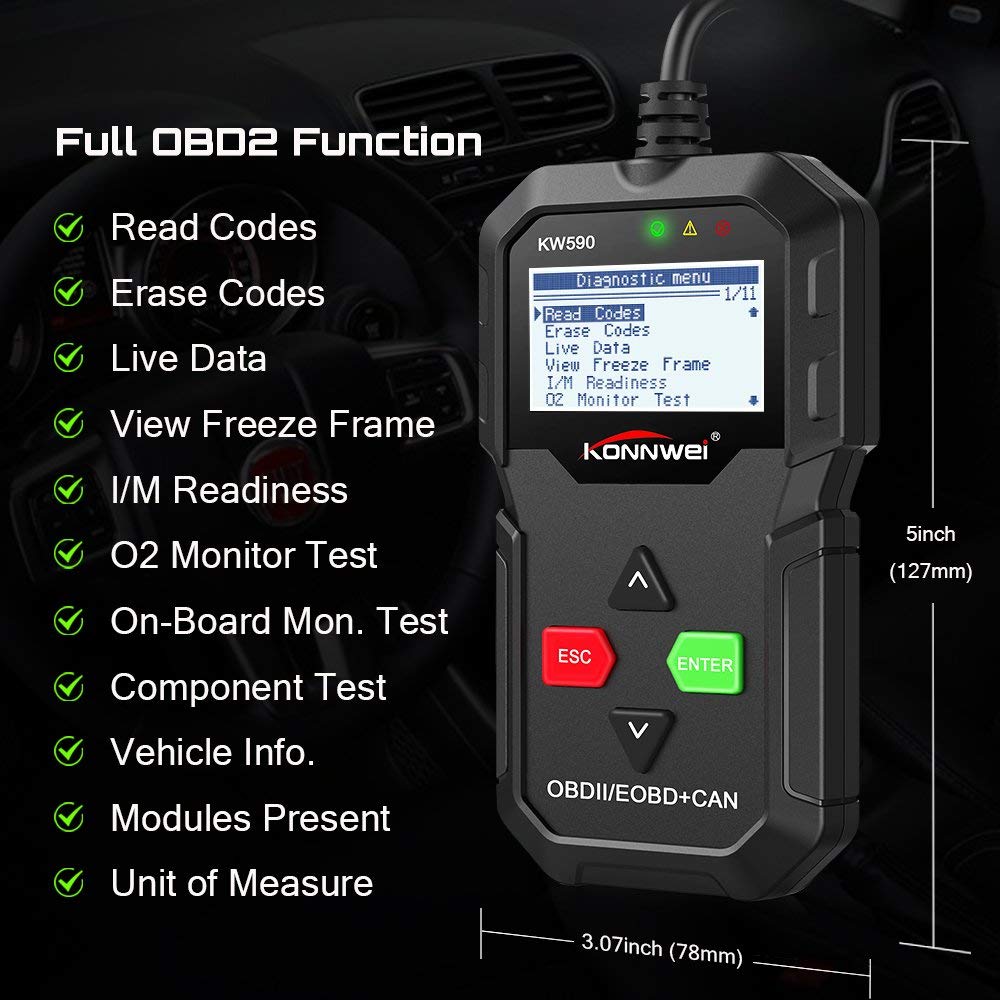 KONNWE KW590 Support Car Makers 
American Car makes: Works on obd2 car from 1996 to now
Fit for Chrysler ,Fit for Ford ,Fit for GM ,Fit for Jeep
European Car makes(Include Russian car): Works on obd2 car from 2003 to now
Fit for Alfa Romeo ,Fit for SAAB  ,Fit for Acura  ,Fit for Opel, Fit for Audi ,Fit for Seat  ,Fit for Peugeot ,Fit for Renault
Fit for Bentley ,Fit for Skoda ,Fit for Daewoo, Fit for Benz ,Fit for Daihatsu  ,Fit for Land Rover
Fit for BMW ,Fit for Vauxhall ,Fit for Citroen, Fit for Volvo ,Fit for Fiat ,Fit for VW ,Fit for Ford ,Fit for Jaguar  
Asian Car makes: works on obd2 car from 2007 to now
Fit for KIA , Fit for Isuzu ,Fit for Honda ,Fit for Mitsubishi, Fit for Hyundai  ,Fit for Dacia  ,Fit for Lexus ,Fit for Mazda 
Fit for Nissan, Fit for Subaru , Fit for Suzuki, Fit for Toyota 
If you want to know whether your car is standard OBDII vehicles or not (fit for ELM327), please leave us message in this format,  "Audi, a4, 2002, 2L ", we will reply you within 12 hours.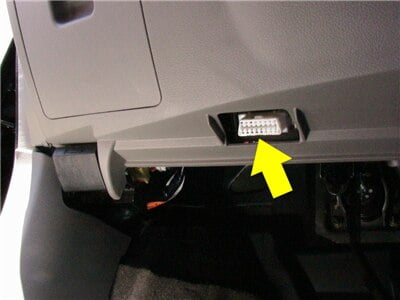 KONNWE KW590 specification 
Display:Backlit m 128*64 pixel display with contrast adjustment 
Operating Temperature: 0 to 60 ℃ (32 to 140 ℉)
Storage Temperature: -20 to 70 ℃ (-4 to 158 ℉)
Power: 8 to 18 V provided via vehicle
Externel Power : 8.0 to 18.0 V power provied via vehicle battery 
Dimensions: 127mm (5in) x 78mm (3.07 ") x 20mm (0.79")
How to Printed DIAGNOSTIC REPORT ?
The Printing Date function allows printing out diagnostic date recored by the scan tool or customized test reports 
1. Downloading the updating tool from our website :www.itoscanner .com or our official website.
2. Connect the Scanner to computer with the USB cable supplied 
3. Run uplink updating program in you computer.
4. Use the UP/down scroll button select printed date from main menu in the scan tool, and press the Ok button
How to Update KONNWE KW590 ? 
1. Hold any button of the scanner until the usb cable connected to PC, you will see below screen.
​Notice: Please turn off anti-virus software when installing, otherwise it will not be able to install the driver properly
2. Download and install the updating tool UPLINK from our official website:http://www.itoscanner.com/
3. One-click UPDATE Button, Wait for the update process finished, the scanner KW590 will be ready to go! we will update to latest version before shipping out, normally there is no need to update for a long while.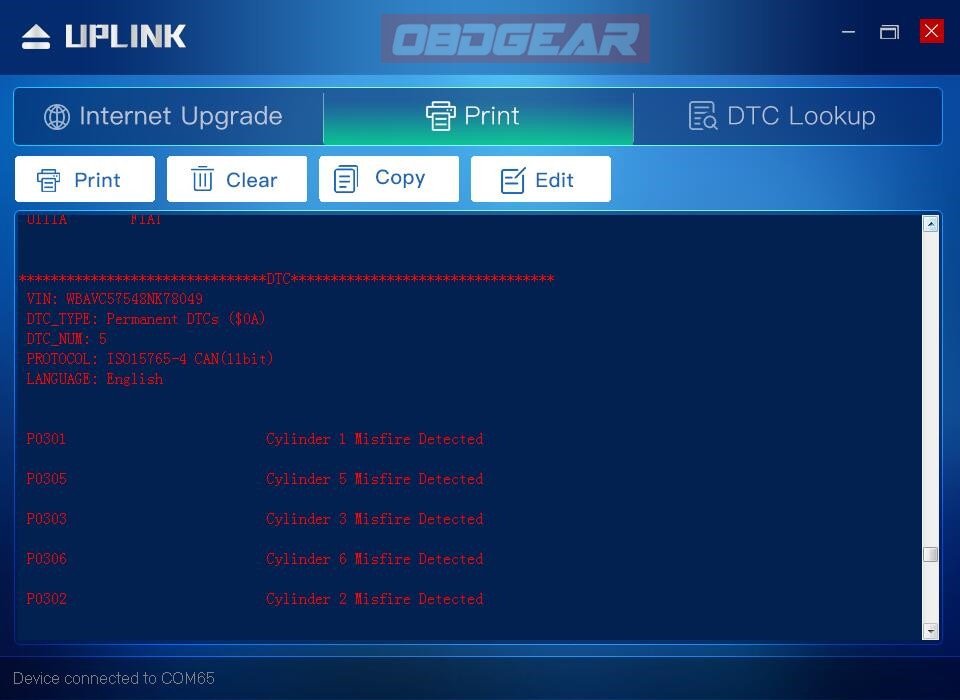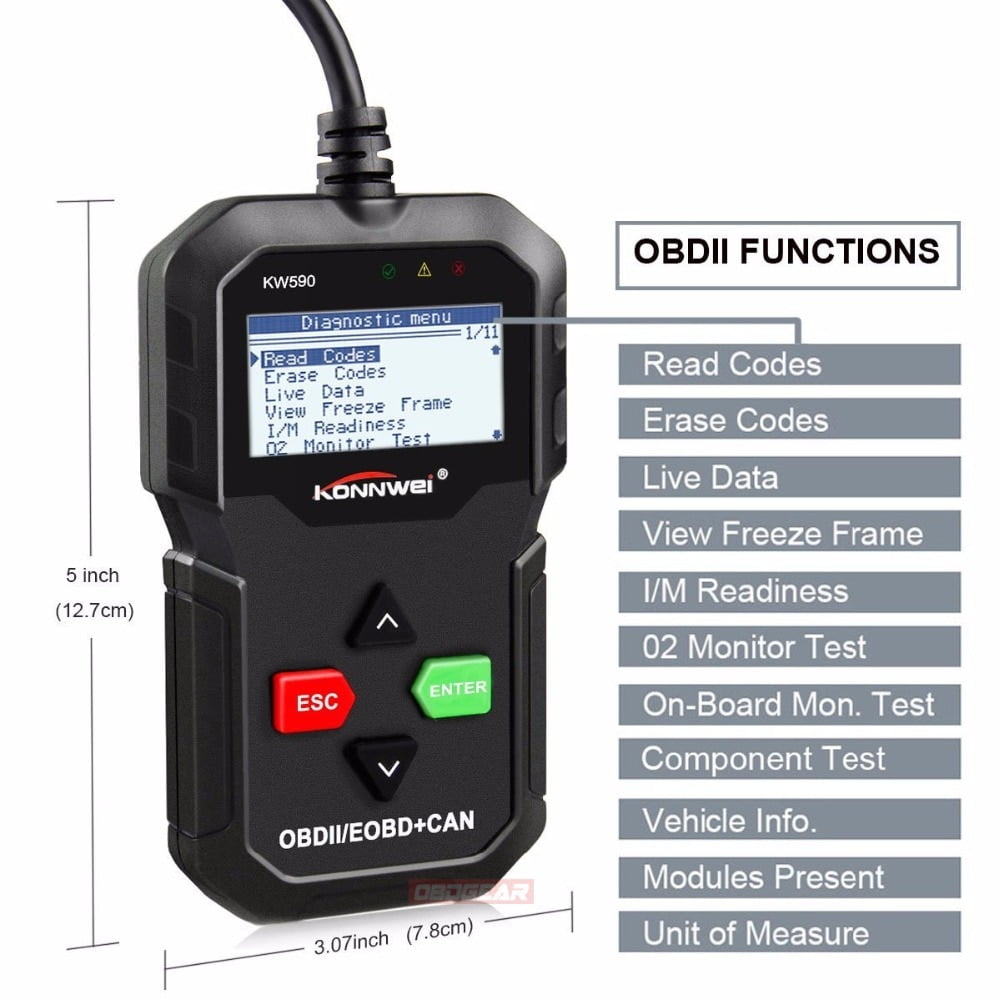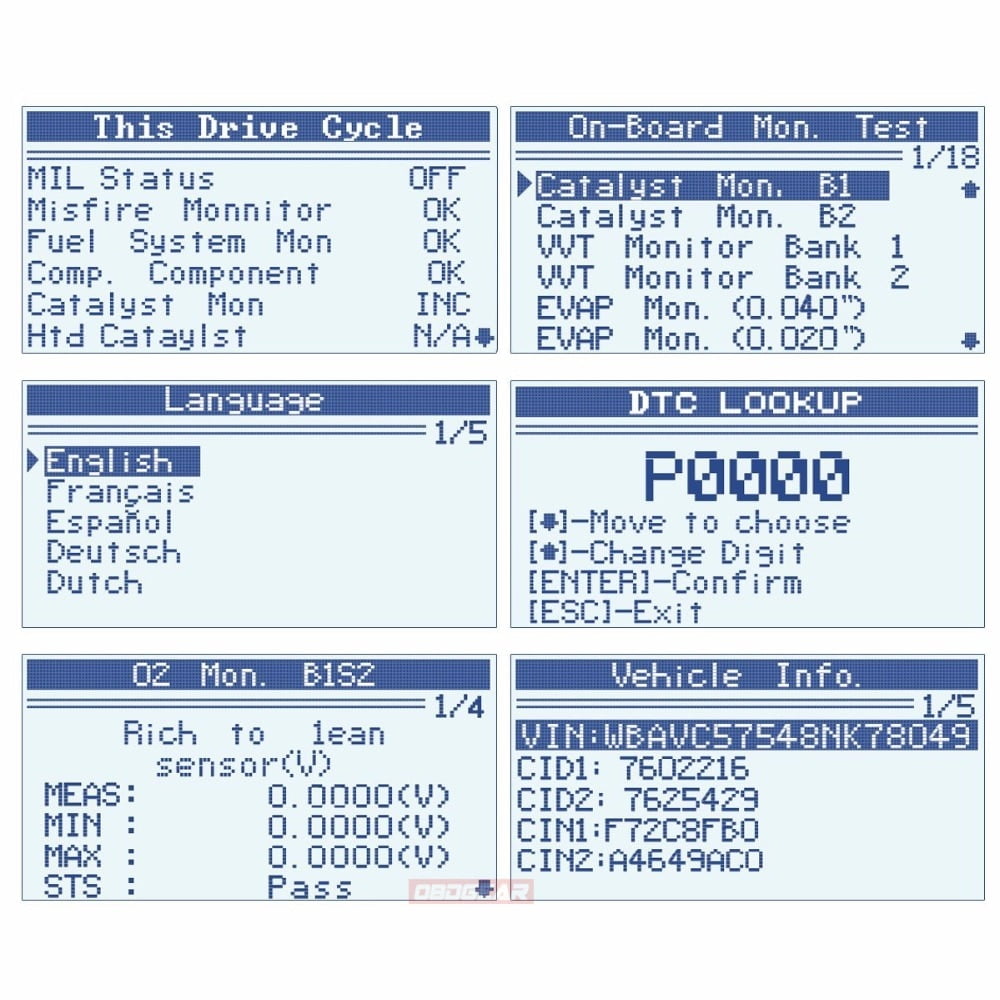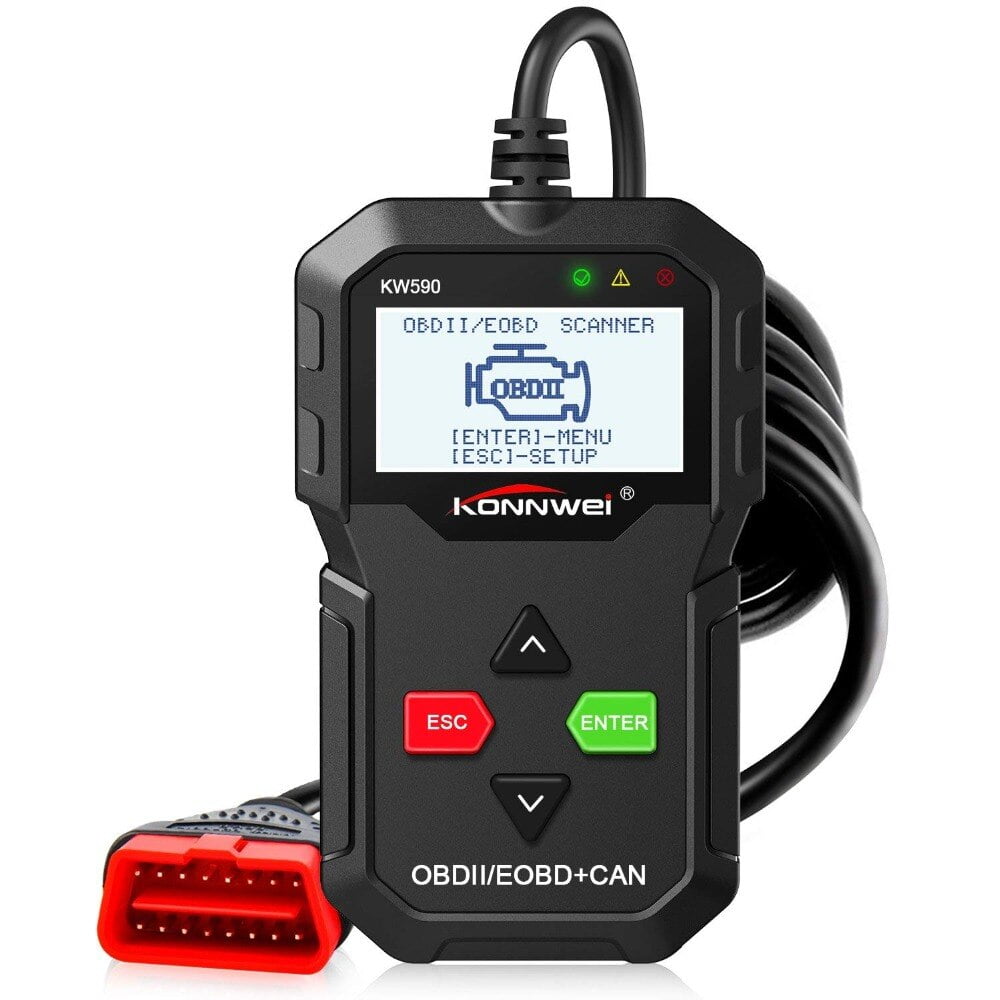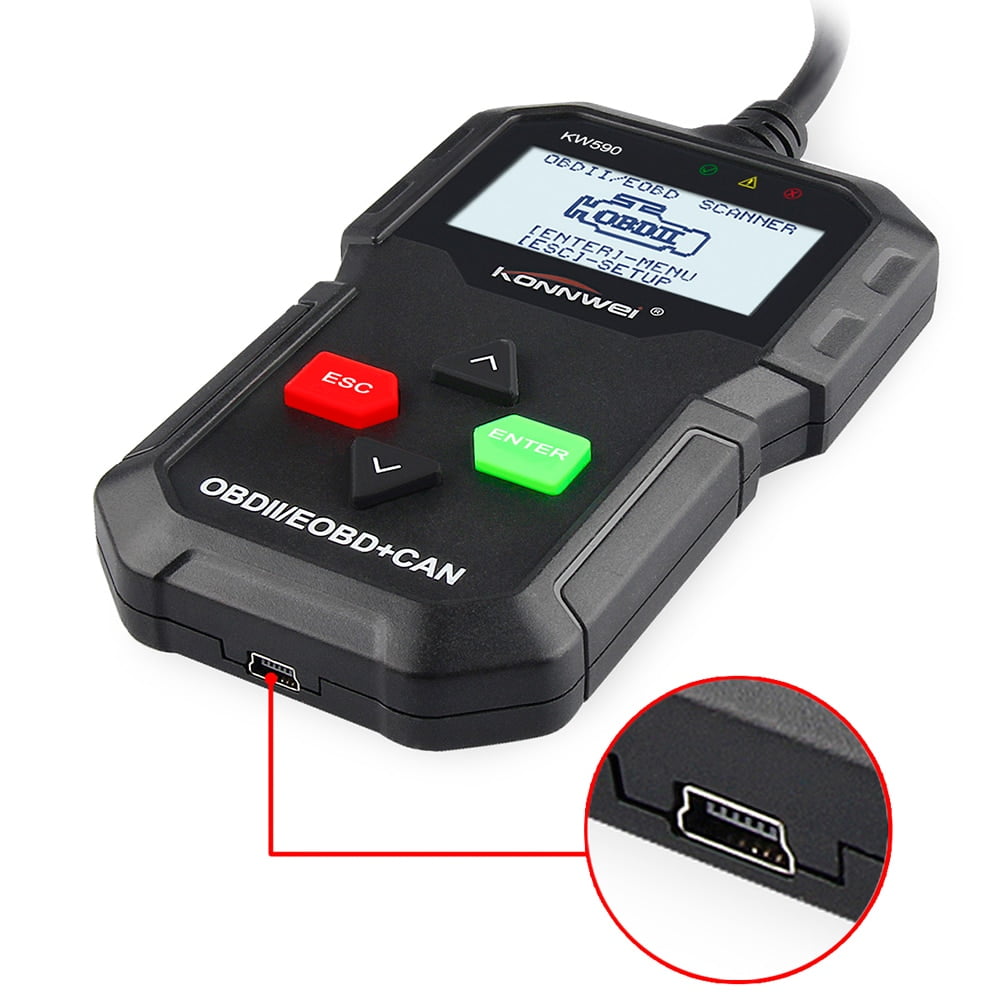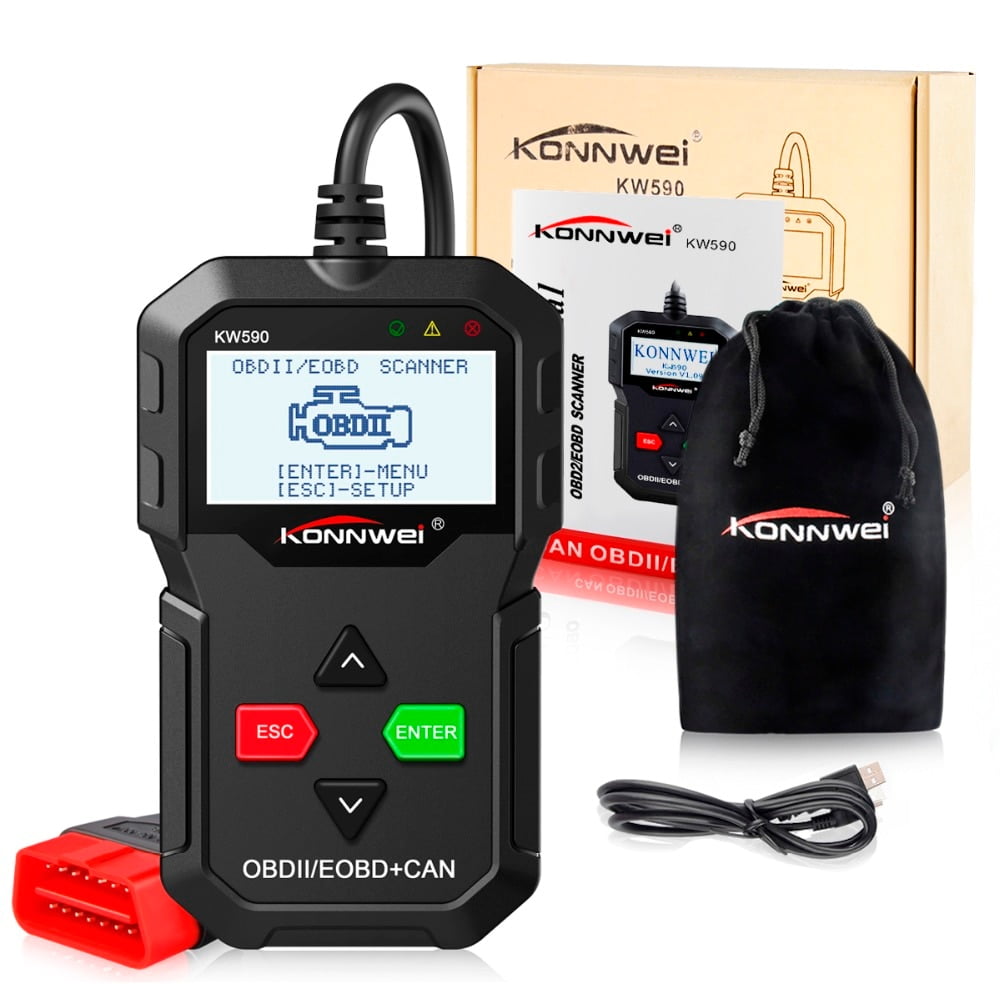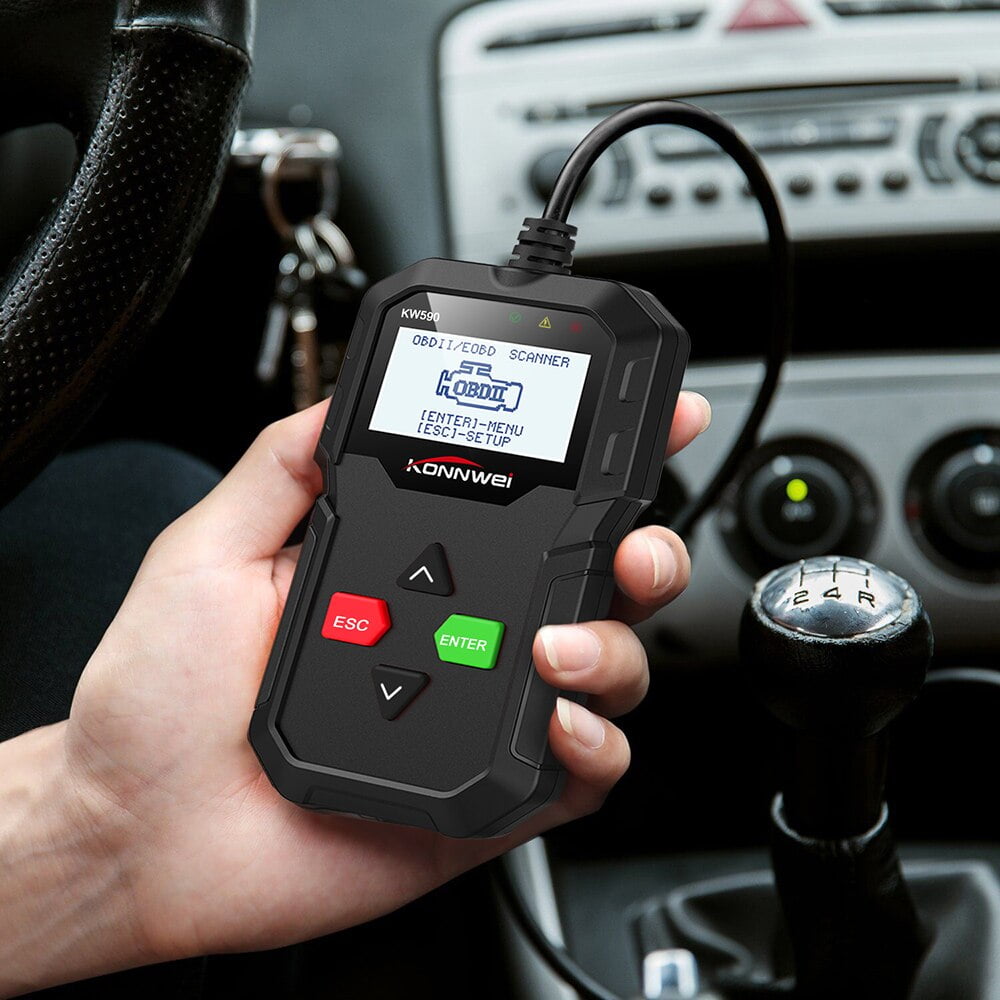 1*OBD2 Scanner  KONNWE KW590  
1* User's Manual in English
 1* OBD2 Cable
 1* USB Cable 
​ 1* Free plush bag